Hey everyone been away for quite some time. Just looking for some help, ideas, and possible parts list.

I still have original parking brake set up but cables are frayed, rub on floor pans. I need to replace passenger side backing plate as cable pulled through on my 8.5 10 bolt.

My interior is lacking a rug I have Bed liner on the floor. The oem center console doesn't fit right with out the carpet....so I was thinking of adapting a center console out of something else with an integrated parking brake handle or building a one off. Anybody have a build up or can reference a build with pics for a center console hand brake lever conversion??
_________________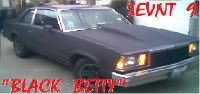 I use to be "bu min v8"
'79 malibu classic, factory bucket/floorshift car: 355, vortec heads, Holley 670, Edelbrock RPM airgap, Comp extreme energy 268, Dynomax ceramic coated headers, 2.5" mandrel bent exhaust from Jegs, T56, 8.5 GN rear, 4.10 richmond gear, moser axles Monte ss booster & master.
fastest 1/4 mi = 13.211 @ 100.78, 1.761 60 Ft on street tires! (700-r4) 12'S OR BUST!